Reading Time:
9
minutes
This is the story about Sabrina Simader, the first African woman in the Ski World Cup and the second-ever Kenyan in the Winter Olympics. Brasidas Group AG (Brasidas) has become Sabrina's official sponsor in 2023, hoping to help her excel in her career and spread awareness about the importance of diversity and shattering stereotypes.
Kindness. A word that is often overlooked by many, often forgotten, and often disregarded. A feeling that, when nurtured and shared, has the power to mend the broken, uplift the spirits of the weary, and bridge divides in our world. An act that transcends the boundaries of race, religion, and culture, binding us together in a common thread of humanity. It's the simple yet profound gestures and selfless deeds that can transform a moment, a day, or even a life. In the exhilarating world of alpine skiing, where athletes push the boundaries of speed and precision, it's easy to be captivated by the fierce competition and unrelenting pursuit of excellence. Yet, beneath the adrenaline-fueled descents and podium ambitions, a remarkable narrative of warmth, empathy, and kindness exists. This story is about Sabrina Wanjiku Simader, the first African woman in the Ski World Cup and the second-ever Kenyan who has participated in the Winter Olympics. Brasidas Group AG (Brasidas) has become Sabrina's official sponsor starting in 2023, hoping to help her excel in her career and to spread awareness about the importance of diversity and shattering stereotypes.
In an interview with Brasidas, Sabrina shared that she was born in colorful and warm Kenya in 1998 and moved to Austria three years later with her mother and stepfather. Other than being "cold and different," Sabrina described this move and significant change in her life as "overwhelming yet thrilling." Having never seen snow before, being introduced to skis and the concept of racing was like stepping into a new world, which Sabrina embraced with commitment and determination to succeed. Sabrina noted that she completed her first race at the age of four, which is quite early for any athlete in any sport. However, her stepfather and coach at the time recognized her talent and the ability to tackle the icy slopes and master the art of alpine skiing. Over time, she fell in love with the sport, won podiums, and brought medals home from numerous competitions.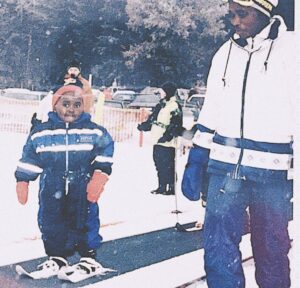 Photos: Sabrina's personal archive
Sabrina recognized that she was different from her competitors, as she was brought up where togetherness is the main virtue, while many Austrians adopted the individualistic approach to life and others. "Togetherness and kindness were two things I missed the most, and Europe was cold in all senses." In the world of competitive skiing, Sabrina's unique background and values would set her apart, ultimately becoming a source of strength and a testament to the power of diversity in the pursuit of excellence.
However, that road to success was paved with frustration, as Sabrina noted that in the first few years of her competing, "I always got there third, even though I wanted to win, and I was ready to win." As is often the case with many young athletes, the pressure to excel and always be first takes a serious toll on one's mental health and enjoyment of the sport.
And that is where her paradigm and mindset changed. Instead of giving up, Sabrina credits her stepdad for introducing a new concept to alpine skiing – fun. At that point, skiing became a journey of excitement, pushing boundaries and embracing every moment on the slopes with a sense of joy. Sabrina discovered that, beyond the competition and rigorous training, a world of exhilaration and adventure was waiting to be explored. With this newfound perspective, she improved her skills and found a sincere connection to the sport, saying that "enjoying the journey has taken that pressure out, and success came." After Sabrina's stepfather passed away when she was 13, she decided to persevere through this loss, using the sport as a channel to connect with the cherished memories she shared with him on the slopes. In every turn and descent, she found a way to honor his legacy and keep their shared passion alive. Skiing became not just a sport but a deeply personal journey of remembrance, resilience, and a tribute to the enduring spirit of the bond they once shared.
Character always wins, and coupled with fun and small acts of kindness, the sport becomes more than just competition and medals.
Sabrina is the first Kenyan who has participated in the Youth Winter Olympic Games, the first African woman in the ski World Cup, and the second-ever Kenyan who has participated in the Winter Olympics. "Actually, the 2018 Olympic Games in Pyeongchang felt like a movie. I carried the flag, and the opening ceremony was breathtaking. And although my first race did not go as planned, the Super G race three days later went great, and I am very happy with the entire performance!"
However, Sabrina noted that her Olympic journey and her career were also shaped by the head of the Kenyan Winter Olympic delegation and the first Winter Olympian – Philip Boit. "In 1998, in Nagano, Philip made history, and if you heard about his story and his race, you would understand why kindness now comes first for me." Namely, even though Boit came last in his race in 1998, then-champion Norwegian Bjorn Dæhlie waited for Boit to reach the finish line to embrace him and congratulate him on his success. Sabrina shared that the experience was so moving for Boit that he named one of his sons Dæhlie. With that, she added that "character always wins, and coupled with fun and small acts of kindness, the sport becomes more than just competition and medals; it becomes a platform for inspiring others and spreading a message of unity and shared humanity."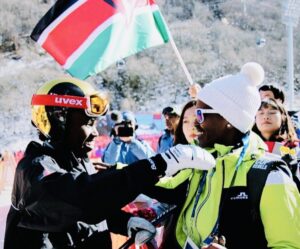 That is why Sabrina wants to use her platform to propagate this message and encourage individuals who do not come from countries that are considered 'traditional winter Olympic competitors' to try, to share the message of warmth and fun and to break the boundaries of what one could deem as possible under any circumstances. Ultimately, she recognizes that there are and will be many challenges on the way to success, such as finances, that could prevent her and other aspiring skiers from embarking on new ventures and excelling further in their careers. "Ski racing is a pretty expensive sport to have everything together, the material, the team, and everything, being the biggest challenge," says Sabrina.
Ultimately, coming back from an injury, Sabrina now hopes to reclaim her position as a formidable presence in the world of alpine skiing and carry forward the lessons of resilience that have defined her journey. Her experience has reinforced her belief that setbacks are temporary detours on the road to achievement and that attentiveness, both given and received, plays a pivotal role in healing and progress. Her story exemplifies its profound impact, together with sportsmanship, showing that the true measure of success extends beyond the podium. That is why Sabrina sees herself as a coach in 10-20 years, spreading joy and the message of thoughtfulness to others. She also indicated that kids in Kenya and other countries could potentially use amenities such as ice rinks or even rollerblades to start their journey and then look for opportunities and camps that could build up their skills and fulfill their aspirations of being a Winter Olympian.
With this collaboration and sponsorship, Brasidas wants to show appreciation for Sabrina's unwavering commitment to her sport and her dedication to making a positive impact in her community. Brasidas believes that supporting Sabrina on her journey aligns with our corporate social responsibility values, which emphasize empowering those who are striving to make a difference, breaking the mold, and supporting the underdogs.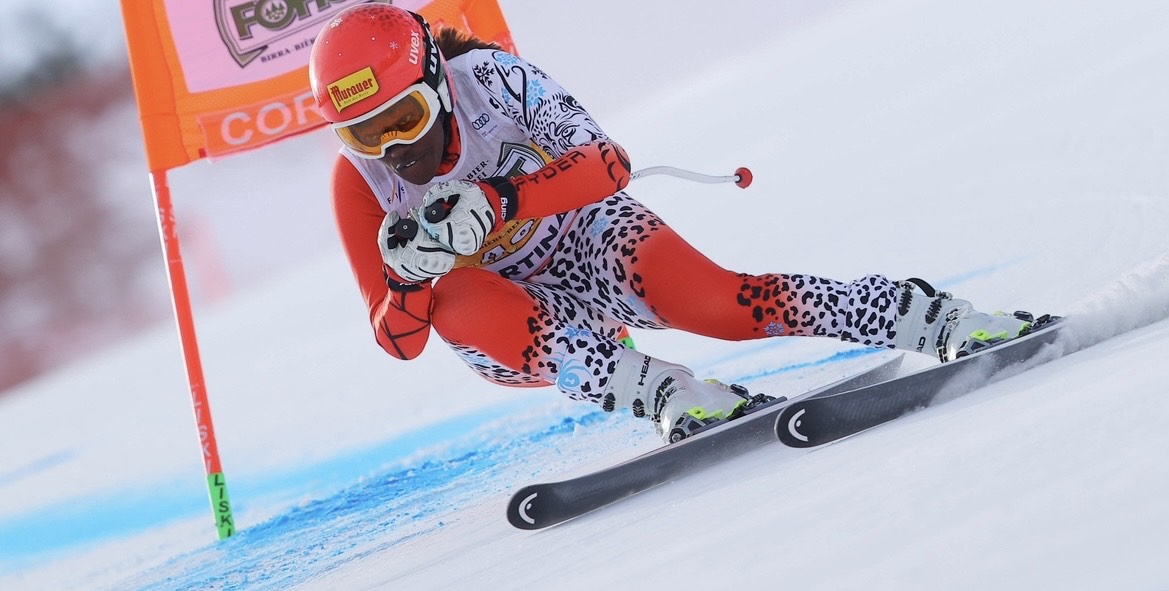 As Sabrina continues her journey, there are different initiatives aimed at supporting her and her ongoing success on the slopes. Below, please find a statement by Crafting Kenya, the company designing products that capture the essence of Sabrina's unique story.
Crafting Kenya: Fundraising for the 2026 Olympic Games 
Crafting Kenya is honored that Sabrina's management company, SOLAB, has chosen us as a merchandise partner for her fundraising drive as she eyes the 2026 Olympics.
Our mission is to work with the globe's most dynamic brands to unlock innovation and opportunity held within Kenya's craft and materials heritage. Staffed by a team of design and production experts trained in Italy and Kenya, Crafting Kenya provides R&D / product development, sourcing, production management, and gifting services, working with artisans and materials producers throughout Kenya. From our work with global heritage fashion brands with a high craftsmanship focus to furnishing events and corporate gifting solutions, we create differentiated products, overseeing the entire process from concept to finished products.
When one thinks about the world of sports merchandising, industrial production comes to mind. In a pioneering move, SOLAB has opted for artisanal production and exclusive use of local Kenyan materials. This aligns with Sabrina's commitment to stay true to her story, and to give back to her country of origin.
Without a doubt, artisanal production is the poster child for sustainable manufacturing. It is the antithesis of overproduction. Embracing local resources, it nurtures regional economies and sustains the artisans and associated industries that form its backbone.
In the coming weeks, the Crafting Kenya team will design products that represent Sabrina's unique brand, her sport, and her Kenyan heritage. We will then prototype and manufacture the products in collaboration with artisan enterprises throughout Kenya.
Stay tuned for a follow-up article taking you behind the scenes.